Would you like to invite a chinchilla to your corporate event? Or maybe a ferret to your family function? Having a snake at your socially distanced soirée would certainly make a statement! CMZoo's EdVenture team is once again offering ZOOMobile, our animal ambassador community outreach program, after a several-month hiatus.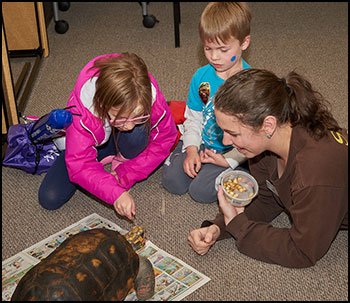 There are several different types of ZOOMobile programs to choose from – whether you are hosting a birthday party in your home, a corporate event or a senior community program, our animals and keepers can make your event even more exciting.
ZOOM Birthdays start at $280.75 and include four live animal ambassadors, a 45-minute engaging program with a Zoo staff member, touch opportunities with animal ambassadors (species dependent), and special animal interactions for the birthday guest of honor.
ZOOM Small Group Programs start at $220.75 and include a 45-minute engaging presentation with Zoo staff, four live animal ambassadors, touch opportunities with animal ambassadors (species dependent), and a natural animal behavior demonstration (species specific).
With COVID-19 guidelines in place, there are some changes to note. Currently, ZOOMobile programs are restricted to El Paso County. We also ask that programs occur outdoors whenever possible and that events are for groups of 25 people or less. For groups outside of El Paso County, larger groups, or for anyone who feels more comfortable, we also offer virtual ZOOMobile programs with live presentations of animal ambassadors.
Visit cmzoo.org/ZOOM to learn about all the programs ZOOMobile has to offer and to submit a program request.