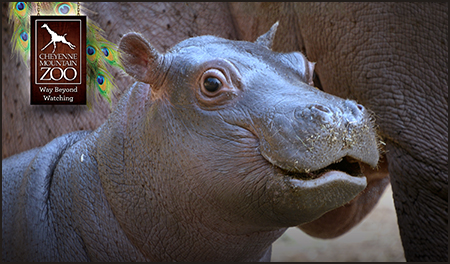 November 2021
Dear Friend,
On the afternoon of Tuesday, July 20th, I was working in my office while listening carefully to the chatter on the Zoo's radio system. Over the past few months, we had been increasingly certain that Zambezi, our 28-year-old hippo, was pregnant. We knew she had displayed breeding behaviors with male hippo Biko, who was brought to Cheyenne Mountain Zoo specifically as a breeding partner for Zambezi and her sister, Kasai. We also saw some physical signs that signaled she might be expecting. Our incredible keepers trained Zambezi to line up against the bollards in her demonstration area to allow our vet team to conduct a radiograph. However, when you weigh about 3,000 pounds, it's not always easy to see everything happening in your belly.
We tried everything we could think of to confirm the pregnancy. Weight gain? If you can poop more than 100 pounds in a day, a 60-pound baby doesn't really register on the scale as significant weight gain. Hormone tests? After we collected many fecal samples, the tests came back inconclusive. So, we did what anyone would do – we waited.
Because a hippo's gestation period is around eight months, we knew the approximate time that Zambezi would give birth, based on her last recorded estrous cycle. Since this would potentially be our first hippo birth in 32 years – and Zambezi's first baby – we did endless research on hippo birth. As the deadline came closer, we became more…everything. Excited, nervous, hopeful, as prepared as we could be.
When baby Omo entered the world in the hippo pool that Tuesday afternoon, we all celebrated – and breathed a collective sigh of relief. When building the Water's Edge exhibit, one of our major goals was to have a successful hippo breeding program, to help increase the population of this incredible species in human care. With Omo's birth, we had done what we had set out to do. This birth felt monumental and so special.
While this year has been unusual in so many ways, I am so proud of the things that the Zoo has been able to do, all thanks to our loyal friends and supporters. You may know that we received a very rare "perfect" accreditation inspection from the Association of Zoos and Aquariums. Or, you may have heard that we were recognized as the 4th best zoo in North America by USA Today 10Best Readers' Choice Awards (and 3rd best exhibit for Rocky Mountain Wild!) We are excited about the momentum we've built, from continuing our conservation work both here in Colorado and around the world, to our summer baby boom (ring-tailed lemurs, red river hog, wallabies, and more!) We can't wait to see what's next.
So much of what we're able to do is because of friends like you. And as we continue to do work critical to our mission, we hope you will be with us every step of the way. From clearing the old Monkey Pavilion site to prepare for something new to watching Omo grow up, there has never been a more exciting time to be at Cheyenne Mountain Zoo. With that in mind, we hope you'll consider supporting the Zoo with a gift to our Annual Fund. Each and every dollar makes a difference in our quest for world-class conservation, education and animal care. Your support matters. With your help, we can continue our tradition of excellence and capitalize on the progress and excitement we've created – together.
Warmly,

Tracey Gazibara
Vice President of Development and Marketing
For more information
Please contact Kelley Parker, Director of Development at [email protected] or 719-424-7810.