Reaching New Heights!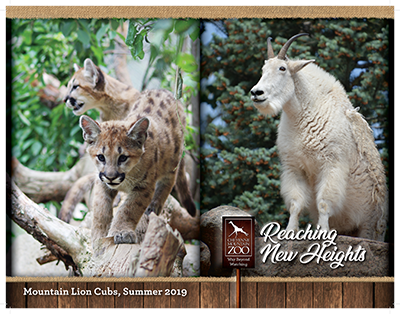 November 2019
Dear Friend,
Every year, when I sit down to write this year-end message, I think about all the great things Cheyenne Mountain Zoo has accomplished. Things like helping to save endangered species, giving kids of all ages experiences to inspire conservation action, and helping to make the world a better place, one Zoo visit at a time. It is because of you we're able to build on our successes year after year. It's because of you we're Reaching New Heights.
When I walk Zoo grounds, it's striking to me how far we've come. Not only have we built new and improved exhibits, we have also had genetically-significant births, made incredible strides in animal care and training, and taken our conservation work to the next level, both here in Colorado and around the world. Because of your support and trust, we've been able to move the Zoo forward in ways Spencer Penrose could only have imagined when he built this Zoo in 1926. Today, we're better than ever. Tomorrow, we'll be better still. Here are just a few of our exciting accomplishments from the past year, as we continue Reaching New Heights:
We had a baby boom!
Just a few of our Zoo babies include a two-toed sloth (Bean), howler monkey (Louie), grey wolf (Uno), meerkat pups, orphaned mountain lion cubs (Adira, Sequoia and Sitka), and reticulated giraffe (Viv- who is truly helping us Reach New Heights with a birth height of over six feet!)
We embarked on some unbelievable conservation missions
We've continued to work around the world to do critical conservation work, including translocating giraffes in Africa, collaring wild mountain tapir in Ecuador, providing training in Indonesia to help start their own Palm Oil Awareness program, and funding local schools' pollinator gardens.
We're improving and expanding our veterinary hospital
Thanks to our generous donors, we are beginning construction on a project to expand and improve our veterinary facilities, which will allow us to continue our cutting-edge work caring for animals from toads to tigers to tree kangaroos.
We're close to opening a spectacular new exhibit
I can't wait for you to experience the completed Water's Edge: Africa exhibit for yourself soon. Though completion has taken longer than we'd planned, due to some pool leaks, the wait will be 100% worth it. With more expansive exhibits for hippos, penguins, lemurs, warthogs, and more, this exhibit will be a true representation of the passion and dedication of our donors, supporters, staff, and community.
We helped nearly 800,000 guests to fall in love with nature and the natural world
After being ranked as one of the top ten zoos in the country once again, we continue to see great attendance numbers. With each guest that walks through our gates, we hope to inspire the next generation of conservationists right here at Cheyenne Mountain Zoo.
We have always felt so fortunate to have a community and a family of members and supporters who care about the work we're doing and want to see us continue to grow and improve. We are looking forward to all that's to come- and we hope you'll join us. A gift to the annual fund helps us continue Reaching New Heights, year after year. I hope we can count on your support.
Warmly,

Bob Chastain
President & CEO
For more information
Please contact Kelley Parker, Director of Development at [email protected] or 719-424-7810.