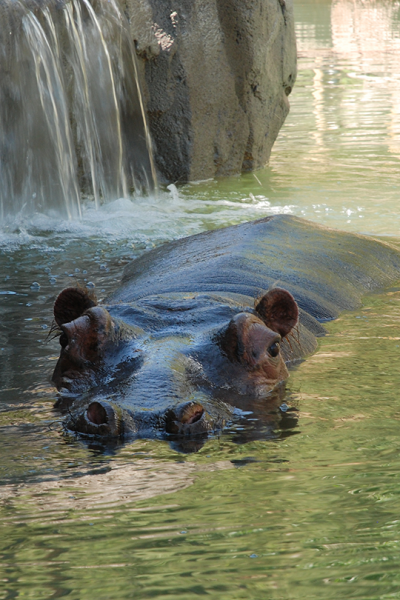 Water's Edge: Africa
New homes for our hippos and penguins! This special new exhibit design enhances their environments and supports successful breeding programs for both species, while giving our guests extraordinary new ways to view their daily lives. Nile hippos and African penguins face surmounting threats in the wild, so it's important that we try to inspire people to take conservation action on behalf of these, and other, species.
A special thank you to the generous donors of the Making Waves capital campaign, which made Water's Edge: Africa possible.
---HUGE HAPPY HIPPO NEWS ALERT--- The girls are home!
May 23, 2020 – The sounds of hippo 'laughs' are once again echoing from the side of Cheyenne Mountain. Zambezi (zam-BEE-zee) and Kasai (kuh-SIGH), CMZoo's Nile hippo sisters, are back home at Cheyenne Mountain Zoo! We're happy to report they are happy and healthy in their brand-new exhibit.
The two female hippos have been 'vacationing' at Dickerson Park Zoo, an Association of Zoos and Aquariums-accredited zoo in Springfield, Missouri, since October 2016, when construction began on Water's Edge: Africa. Zambezi, 27, originally came to Cheyenne Mountain Zoo in 1993. Kasai, 20, originally came to CMZoo in 2001. Given their long-time residence and personable demeanors, the girls are well-loved by staff, the community and CMZoo fans all around the world.
"The question of the year has definitely been, 'When are the hippos coming back?' We're just so happy the girls are finally home," said Patty Wallace, senior lead keeper at Water's Edge: Africa, the new home for hippos, penguins, warthogs, lemurs and more, at CMZoo. "There were a lot of happy human tears and a lot of wiggling hippo ears on Friday morning, as we watched them explore their new home. It's so fulfilling to see them enjoying this beautiful space and settling back in. We missed them!"
Under current restrictions, the Zoo is temporarily closed to the public until further notice. But, when the Zoo is allowed to reopen, guests will be able to see the girls from one-of-a-kind perspectives, like the Water's Edge: Africa giant rope bridge that hangs 8 feet above the outdoor hippo yard.
The hippos' 750-mile journey home wasn't your average road trip. Learn more about their trip and how they're settling into their new home.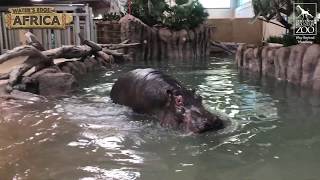 Our First African Penguins Have Arrived at Water's Edge: Africa!
April 25, 2020 – We have BIG NEWS on #WorldPenguinDay! Our first five African penguins have arrived! Since our temporary closure, we've continued work on Water's Edge: Africa, our new home for hippos, penguins, warthogs, lemurs and more. We're happy to report the new exhibit's first residents are settling in.
In this video, meet CMZoo African penguins Pomona, Safara, Alex, Rudo and Rufaro! You'll also see a behind-the-scenes sneak peek at their medical checks, their first dip in the indoor pool and their first time taking in the beautiful views from the mountainside. You're also getting the first public glimpse at the penguin pools in all their leakless glory!
We can't wait to have you all back to meet the penguins in person! Learn more about their arrival here.
Animals in Water's Edge: Africa