It's that magical time of year when many people search for the perfect holiday gifts for friends and family. Whether you're looking for a once-in-a-lifetime experience or a truly unique stocking stuffer, these options are sure put a smile on every face on your list. Plus, when you purchase something from Cheyenne Mountain Zoo, you know your funds are helping us continue our important work. As a nonprofit that doesn't receive any tax support, we rely on admission, memberships, events and special programs like these to continue our work.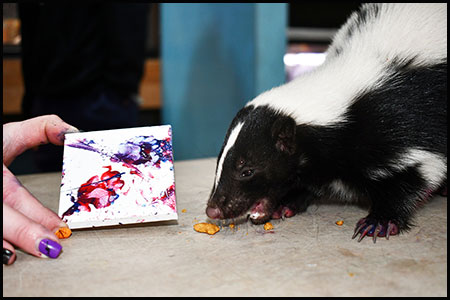 Animal Art Holiday Ornaments
The Loft animals and their keepers have been painting the perfect stocking stuffers or gifts for your holiday party gift exchange. These 3" x 3" canvases with twine hangers are one-of-a-kind, because they were painted by an animal ambassador! Skunks, parrots, reptiles and even Bean the sloth added their artistic touch to the ornaments by participating in voluntary training with their keepers. Some animals walk through paint and onto the canvasses, leaving their adorable footprints in a variety of flashy colors. Others slither through the paint and some even hold the paintbrushes themselves! These ornaments are only available for purchase in person in The Loft, now through the end of Electric Safari.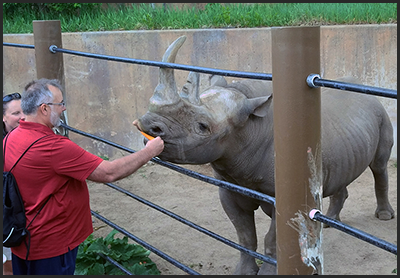 VIP Tours
If you really want to spoil someone, give them the adventure of a lifetime: a CMZoo VIP Tour! During this private tour, your group of up to five people will experience three behind-the-scenes animal encounters of your choosing, plus a meet-and-greet with one of our ambassador animals in The Loft and a super-sized giraffe feeding. You can help train our lion pride, get up-close with the grizzly bears, say hello to the hippos, or choose from our many other animal encounter options. Along the way, one of our experienced guides will tell you all about the Zoo, our animals and our conservation impacts around the world. When your tour ends, enjoy the rest of the day at the Zoo, because admission is included. Visit cmzoo.org/viptour to see our animal encounter options, to get all the details and to sign up.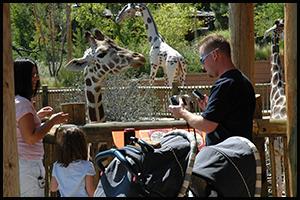 CMZoo Annual Membership
How about a gift that keeps on giving all year long? Memberships can be purchased as gifts! CMZoo members can take advantage of free daytime admission (with advance ticket reservations), discounts on programs and merchandise, free members-only summer nights, free Electric Safari visits in the winter and more. Visit cmzoo.org/membership or email [email protected] for more information.
Tickets to Electric Moonlight and Electric Safari
Give the gift of memories made by purchasing tickets to a holiday special event at the Zoo, and be early to the gift-giving season! In December, we have options for an adults-only date night (there will be a lot more than milk and cookies on the menu) or a festive evening on the mountain with the entire family.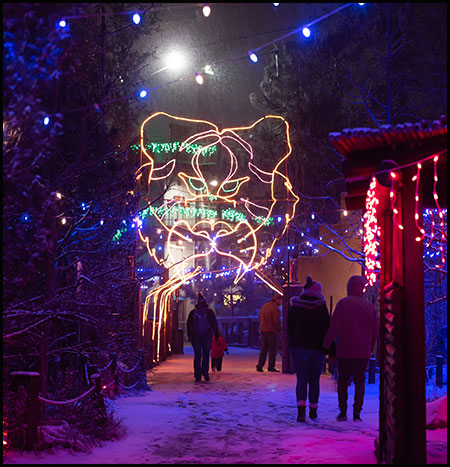 Electric Moonlight returns to Cheyenne Mountain Zoo on Thurs., Dec. 8 from 5:30 to 8:30 p.m. This event is just for our 21-and-up guests, complete with holiday lights, live music and food and drink samples from local vendors, restaurants, distilleries and breweries (while supplies last). Plus, an elf told us that jolly old Saint Nicholas will be there to hear holiday wishes from the grown-ups! Tickets will be available at 8 a.m. on Mon., Nov. 7 at cmzoo.org/em.
Electric Safari starting Dec. 2, the Zoo opens its gates in the evenings where all ages can explore the Zoo and enjoy the wonder of 50 acres of twinkling lights, illuminated enormous inflatable animals, and more than 80 handmade light sculptures on display throughout the Zoo. Until Dec. 23, Santa Claus will be at Electric Safari to meet guests and listen to holiday wishes. This event is a magical way to get into the holiday spirit on the side of Cheyenne Mountain, where the views of the city lights below the Zoo can't be beat. Electric Safari runs Dec. 2-4, 9-23, 25 – Jan. 1, 2023 from 5 to 8:30 p.m. CMZoo members have access to early-entry by reserving tickets between 4 and 5 p.m. Electric Safari is free for members, but everyone needs to reserve an advance timed ticket. Tickets will be available at 8 a.m. on Mon., Nov. 7 at cmzoo.org/electric.
Small group events and programs
These also make great gifts! See all of our options at cmzoo.org/events.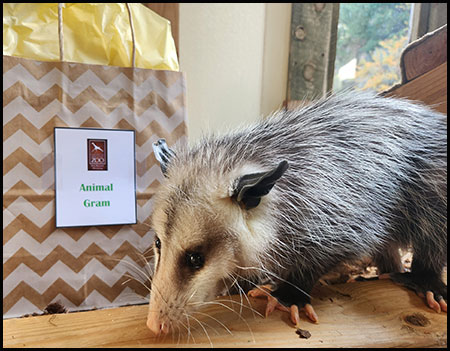 Animal Grams
Do you know someone who would love to open their front door to a skunk, tortoise, owl or otherwise? Surprise them with a CMZoo Animal Gram! Our EdVenture team will come to your home or workplace with a very special guest: an animal ambassador from The Loft or My Big Backyard. Each Animal Gram includes a 5- to 10-minute visit from an animal and staff, an animal art piece and photo opportunity. Get all of the information at cmzoo.org/grams.
Adopt an Animal
Lions, tigers, and bears – oh my! Gift a hippo, giraffe, moose or another animal of your choosing that we'll mail to you or a loved one. Depending on the level of adoption package you choose, it could include a plush animal toy! All of our adoption packages include a certificate of adoption, an animal fact sheet and a photo of the animal at CMZoo. Each adoption directly supports the care of all our animals. You can find our array of adoption packages at www.cmzoo.org/adopt.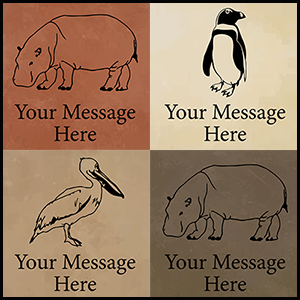 Water's Edge: Africa – Tile Program – Coming Soon!
Our super-popular tile program is coming back! Have your name, a loved one's name, or a short message engraved on a tile on our new Community Tile Wall, to be located in Water's Edge: Africa. You can visit your tile every time you come to the Zoo and your donation will directly contribute to the care of our animals. Tile purchases will be available in November. Learn more at cmzoo.org/tiles.