In October, we told you about a recent health scare with Roxie, Cheyenne Mountain Zoo's eldest Western lowland gorilla. Since then, CMZoo animal care and veterinary teams have been monitoring Roxie, and making decisions about the future of her care.
The 43-year-old female became lethargic and refused to eat or drink in early October 2019. CMZoo veterinary team and keepers immobilized Roxie the morning of October 6. At the CMZoo vet clinic, Roxie's examination included whole-body x-rays and ultrasounds. She was given IV fluids and supportive medications that helped address any infection that may have been present. The examinations revealed multiple medical conditions, the most concerning of which was a suspected infection of Roxie's reproductive tract. Throughout her life, Roxie has dealt with kidney issues and ulcer-like cysts that have caused gastrointestinal and reproductive system complications. The exam also revealed age-related changes, including arthritis.
While she was under anesthesia, Roxie suffered a cardiac arrest and was brought back to life with CPR and emergency drugs. Since then, Roxie has been mostly stable – except for a couple of days when she had very little appetite.
"We're taking into consideration her quality of life for her remaining time with us," said Dr. Jon Romano, head veterinarian at CMZoo. "We don't want her to suffer, so we're weighing the benefits and the risks that medical procedures would have on her and the troop. Gorillas are extremely social and Roxie's immobilizations, hospitalizations and recovery periods require separation, which can be stressful for her and her troopmates. On a daily basis, she seems active and comfortable. There's no cookie-cutter approach. We're taking a lot of factors into account and will ultimately do what's best for the troop."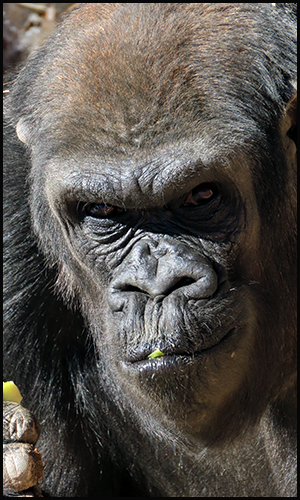 For now, Roxie is receiving medications to address her ongoing issues, but her care team has made the decision not to provide extreme medical intervention going forward. This is a difficult decision for her team, but is in the best interest of Roxie – one of CMZoo's longest living and most iconic residents.
"If her episodes continue and increase in frequency, we would consider what's best for Roxie and whether humane euthanasia is the best course of action for her," said Dr. Romano. "It's hard to say what our course of action will be, because it will be based on how Roxie is doing at the time. But, we're no longer pursuing extensive diagnostic medical procedures."
Heidi Eaton, Primate World animal keeper, has worked with Roxie for 25 years.
"She's been doing great lately, but we're being realistic about the fact that her condition could shift at any time," said Eaton. "She's on daily medication for age-related issues and the medical challenges she's experienced throughout her life. The fact that she's had these ongoing issues and she's still with us is pretty amazing. She still seems to enjoy life and spending time with the female gorillas and Goma [CMZoo silverback]. As long as she's doing that, it's great for her and the troop. But, I also agree with the decision that there's not necessarily a need for stressful heroics at this point in her life. She is older and it's not worth putting her through additional testing or exploratory surgeries."
The median life expectancy for female Western lowland gorillas is 38 years. Her team will continue their dedicated work to keep Roxie comfortable as long as possible with medical treatments that lessen the severity of her symptoms.

Back to The Waterhole