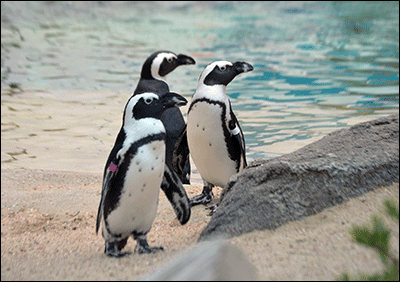 Whether you visit CMZoo every week or you're preparing for your first-ever visit, take advantage of these insider tips to make it the best day ever.
Likely Animal Sightings
Omo, our one-year-old Nile hippo, has dinner with his mom, Zambezi, around 4 p.m. inside the hippo building. The afternoon is a great time to see Omo up on land.
Did you know you are almost guaranteed to see our African penguins on the beach right after the Zoo opens? They have their fish breakfast on the beach (as long as it's warm enough) daily around 9:30 a.m.
Our African elephants love a good afternoon swim in the rain. During the summer and early fall, afternoon showers aren't uncommon at our mountain Zoo, and the elephants usually head straight for their pool. This is often when you'll hear them trumpet, too!
Our Mexican wolf pack can be elusive, and are sometimes hard to spot in their expansive habitat. Around 11 a.m., they usually have a mid-day meal that their keepers place at the front of their yard, where guests have a great opportunity to see these critically endangered animals up close.
Atka, our Alaska moose, is often found hanging out by his pond in the early afternoon. He seems to enjoy a mid-day snack of vegetation, which is growing plentifully around his pond this time of year.
Guaranteed Animal Sightings
Did you know there's a daily schedule of keeper talks, animal feeding opportunities, and animal demonstrations? From grizzly bears to great apes, guests can plan to attend inspiring and educational presentations that vary daily. Check the schedule at cmzoo.org. If you're planning your trip for a different day in the future, click on "Plan Your Visit for Another Day" to see that day's schedule.


Other Pro Tips
Our admission prices decrease for entry times from noon to 1:30 p.m. and decrease even more for entry times at 2 p.m. or later. Did you know our ticket prices vary depending on the time of day, day of week and season of the year you choose to visit? Peruse our pricing calendar at cmzoo.org/prices. Don't forget – advance e-tickets are required for members and the general public, and you can get them at cmzoo.org/visit.
Afternoon showers sometimes mean we need to close the Sky Ride early. If you really want to ride our Mountaineer Sky Ride, and get some of the best views in the entire city, make it one of the first things you do at the Zoo, as early in the day as the rest of your schedule allows.
Don't waste a snow day. As long as you can safely travel to the Zoo, we highly recommend spending your snow day exploring in a winter wonderland. Up on the side of Cheyenne Mountain, we typically get a few more inches of snow than the rest of the city, and it makes our setting even more magical. Bundle up, get a hot tea or cocoa from The Cozy Goat Espresso Bar at CMZoo, and head to Rocky Mountain Wild and Asian Highlands to see how animals native to the colder climates respond to the snow. Then, warm up in The Loft and Scutes Family Gallery before stopping by to see the elephants and giraffe in their cozy barn. Don't forget – guests can feed our world-famous giraffe herd every day of the year, whether they're outside or inside, for $3 per lettuce bundle, or $5 for two.
Speaking of lettuce, are you aware of our 'Frequent Feeder' cards? For $20, you can purchase a punch card that is good for 10 bundles of lettuce. Those cards can be purchased at Admissions when you check in, or at the lettuce hut in African Rift Valley. Once you have redeemed all of your feeding punches, the card is then valid for 20 percent off a purchase at the Grizzly Grill or the Thundergod Gift Shop.
We also offer 'Frequent Rider' cards for our guests who can't get enough of our historic carousel! As one of the few remaining structures of the "original" Zoo, this country-fair style carousel features 20 jumping horses in two rows, with two stationary chariots, and has been giving Zoo guests of all ages a twirl since 1937! For $15, guests can enjoy 10 rides. Learn more about the carousel and see seasonal hours of operation here. Purchase punch cards at the carousel or admissions.
We hope these tips help you plan your perfect day at CMZoo! Advance tickets, daily schedules and more information are always available at cmzoo.org.