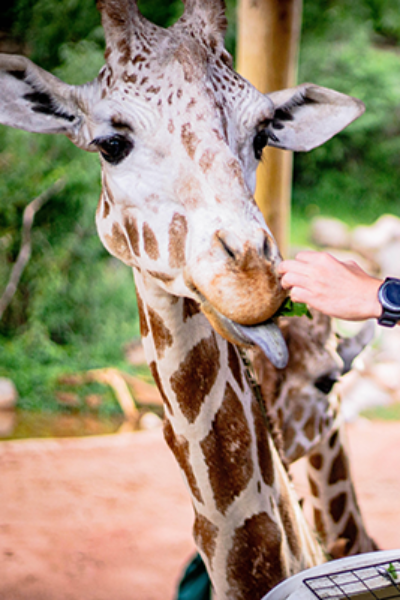 Getting Started with Your Membership
Thanks for being part of the Cheyenne Mountain Zoo Family! We love our members – from education to conservation and animal care, you help us do it all.
Contacting the Membership Department
Our business hours are Monday-Friday, 8 a.m. – 5 p.m.
Phone numbers: 719-424-7830 or 719-424-7893
Email: [email protected]
To ensure you are able to make the most of your CMZoo membership after you have purchased or renewed your membership, please use the following resources:
Register for an Online Account (New Members only)
In order to access and reserve your member e-tickets, as well as receive any qualifying member discounts, you'll need to have an online account.
Please make sure the information you enter in the registration process matches exactly to the information you provided at the time of purchase (whether you purchased/renewed online, in-person, or over the phone). Mismatched information, especially nicknames versus legal names, can create duplicate accounts which will prevent you from being able to reserve member tickets until we are able to locate and merge the accounts.
If you receive an error message stating that your registration cannot be processed, you likely already have an existing account! Please refer to the Password Reset instructions below to access your existing account.
Questions? We can help! Contact us at

[email protected]
---
(Existing Registrants only)
If you have not recently logged into your existing online account, you may be required to change your password to meet our third party ticketing system's updated security requirements.
Please follow all instructions when resetting your password:
Make sure your password meets the following criteria*:
– at least 12 characters long,
– at least one lowercase letter -or- one uppercase letter,
– at least one number value,
– at least one special character (i.e. !, @, #, $, etc.),
– Your password cannot contain your name(s), username, or organization name in any text direction,
– Passwords must be changed every 365 days.

*If your existing password does not meet the above requirements, you will be prompted to reset your password.

Allow a minimum of 10 minutes after you have changed your password before logging in with your new password.
If you did not receive the password reset email, your email address on file is likely incorrect. Please contact the membership department if you need to confirm or change your email address on file.
If you are locked out of your account for any reason, your account will automatically unlock after 30 minutes. In the meantime, email us with the date and time you're looking to visit and how many tickets you need reserved – we're happy to help you reserve your tickets!
Questions? We can help! Contact us at

[email protected]
---
Digital Membership Cards
To further promote our commitment to our conservation mission, we have transitioned to digital membership cards! You can download your digital membership card one of two ways:
Directly into the wallet of your smartphone, – or –
Through the eMembership Card app available on the app stores, which includes access to additional Zoo resources.
For instructions on how to download your card, go to Digital Membership Cards.
Please note: paper membership cards will only be sent upon request. To request a paper membership card, please email [email protected].
Individual Plus, Family, Grandparent & Family Plus Member Levels:
Advance member tickets are required for Individual Plus, Family, Grandparent and Family Plus members.
– Members age 18 and older will need a member adult ticket, while members under the age of 18 will need a member child ticket.
– Tickets are subject to selling out, so be sure to plan ahead at least 5-7 days (especially on weekends, holidays, and throughout our peak summer season) when looking to reserve your daytime admission tickets.
Reserve advance member tickets
Conservator, Patron and Patron Gold Member Levels:
Conservator, Patron and Patron Gold level members don't need to reserve advance tickets for daytime or Electric Safari admission. Just be sure to confirm your membership level at Admissions with your valid photo ID to enter the Zoo, even if we're sold out.
Who Can Visit with Member Tickets?
Only named members (including Third Adult add-ons), listed children/grandchildren, and included "plus" guests are allowed to visit with member tickets.
– All named adults are required to present a valid photo ID every visit.
– If you do not have your ID when you check in, you will be charged for the appropriate non-member ticket price. This ticket is non-refundable and cannot be used towards your membership fee.
If a named member is unable to visit, another person cannot take their place and visit with a member ticket. Anyone with a member ticket that is not named or included on a membership will be charged the appropriate non-member ticket fee upon arrival.
If you have added a Third Adult to your membership, please note the following:
– The named Third Adult is welcome to visit on their own, with the children listed on the membership, or with all parties listed on the membership.
– If your membership includes any "plus" guests, only the named primary member(s) can bring the "plus" guest(s) – the Third Adult cannot bring in any included "plus" guest(s) without a primary member present.

Reserving Member and Non-Member tickets together

– Because Zoo member tickets can sell out quickly, we recommend that you reserve your member tickets first and then purchase non-member tickets for the same date and time.
– If you have an Individual Plus membership, and you are bringing another adult as your "plus" guest as well as an infant, please be sure to purchase the appropriate non-member 2 & Under ticket for the same date and time as your member tickets.

---
What to Bring to Check-In
To help us ensure that your member benefits are protected, all named adults are required to present a valid photo ID every visit.
If you do not have your ID when you check in, you will be charged for the appropriate non-member ticket price. This ticket is non-refundable and cannot be used towards your membership fee.
– Your membership card is always welcomed, but not required to visit the Zoo!
Advance ticket reservations are required for Individual Plus, Family, Grandparent, and Family Plus level members. Be sure to bring a physical copy or a picture of your tickets, or the order number of your reservation just in case you experience a disruption in your cell service on the mountainside.


---