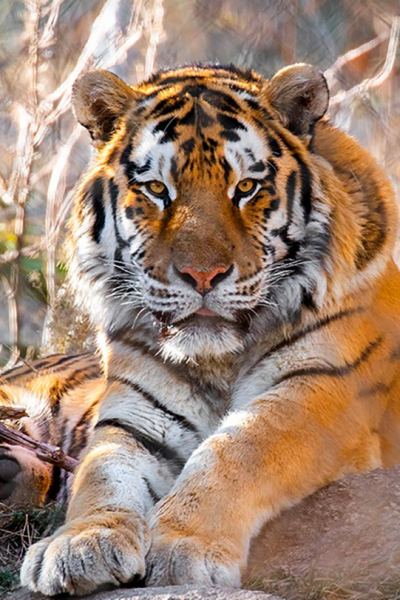 Current Members
We're Getting Better and Better. Thanks to You.
Thanks to the more than $2,700,000 of critical support you give Cheyenne Mountain Zoo every year, we're able to provide for the animals in our care—and deliver a better Zoo experience for all visitors, all the time. We deeply appreciate your membership and look forward to having you visit us often.
Zoo Hours
Your Zoo is open seven days a week, 365 days a year from 9 a.m. – 5 p.m., with last admission always at 4 p.m. (unless noted for special events or holidays).
Zoo Admission
Daytime admission is always FREE with your Zoo membership.
Advanced tickets are required for member entry. Tickets are subject to selling out. To allow everyone a spot in our on-site parking lot, we have limited Zoo capacity through the day. Because of this, during busier times of year (i.e. summer, holidays, weekends, etc.), you will need to plan a few days, or a week, in advance to visit the Zoo with your membership. We appreciate your flexibility and encourage you to choose a different date or time, should your preferred time or date be unavailable.
Reserve your advance member timed tickets at www.cmzoo.org/visit
Membership Office Hours
Hours: Monday – Friday, 8 a.m. – 5 p.m.
Phone: 719-424-7830 or 719-424-7893
Email: [email protected]
Ticket Help: [email protected]

We appreciate our Corporate Members!
When you join the Zoo as a corporate member, we'll list your company on our Companies for Conservation webpage the entire year you are a member! These sponsorship donations help contribute to over $2 million spent caring for our huge giraffe herd; our grizzly bears, Emmett and Digger; a pride of lions; a Mexican wolf pack and so much more!
Members-Only Exclusive Adventures*
(Event details are posted below when available. See our Zoo Events Calendar for all listings.)
Please note: Events listed below may change due to unforeseen circumstances.
JOIN US FOR YOUR SUMMER 2022 MEMBER EVENTS!
– Saturdays, June 1 through Labor Day Weekend – RISE AND SHINE MEMBER MORNINGS – 8 a.m.
Members can enter the Zoo at 8 a.m. every Saturday morning through Labor Day weekend! Watch and listen as the Zoo wakes up. This perk is only available to those listed on a membership (adults, children and Third Adults) and those covered under a 'Plus' membership (Individual Plus or Family Plus/Grandparent Plus). We hope you join us soon!
Stay tuned for 2023 Summer Member Event Listings!

---
*Who can attend Members-only events?
Please note: Patron Dinner is by invitation only; however, member nights are open to all members.
For an Individual Plus membership, the primary card holder and his/her guest is included (listed adult must be present).
For a Family or Grandparent membership, the one or two primary adults and any children listed on the card are included.
For Family Plus/Grandparent Plus and higher, any "Plus" people are included (x1 for Family Plus/Grandparent Plus, x2 for Conservator and higher – Note: a listed adult must be present to bring the "Plus" person/people).
Third Adults can also attend if they are listed on the membership.
Be sure to have your membership card and photo ID (for listed adult names) to check in at the front gate.​
No guests, non-members or one-time-use guest passes can attend to members-only events.
The Sky Ride Day Pass is not applicable to members-only or after-hours events.
Members cannot renew during a member night.
Discounts, Privileges & Programs
Many, many special privileges and program offerings for our Zoo members:
Win a Behind-the-Scenes Experience!
June through August, your name will be entered for a chance to meet one of our amazing animals behind-the-scenes. The more you visit, the better your chances of winning! Winners will be contacted by the Membership Office at the end of each month- see you soon!
FREE admission to Will Rogers Shrine of the Sun
Enjoy a 1.4 mile drive up the Russell Tutt Scenic Highway to this spectacular historic monument with breathtaking views of Colorado Springs and the Pikes Peak Region. Visit the Will Rogers Shrine of the Sun webpage for details on hours and access.
FREE subscription to The Waterhole
Our monthly eNewsletter keeps members updated with behind-the-scenes animal stories, special members-only events, promotions and more!
Discounted tickets to Boo at the Zoo in October
Receive a member discount on tickets to the regions most unique Halloween event (advance tickets required).
FREE admission to Electric Safari
Members get FREE visits to our holiday lights extravaganza, during evenings in December (advance tickets required).
Rise and Shine Member's Summer Mornings
Exclusive members-only summer entrance to the Zoo starting at 8 a.m. on summer Saturdays (June 1 through Labor Day). Watch and listen as the Zoo wakes up and stay ahead of the crowds and the heat.
Invitations to exclusive members-only adventures.
Special savings on EdVenture programs
Enjoy great discounts on educational events including WildNights, camps, classes and more. See Events and Programs for special member pricing by program.
10% discount in our gift shop
The Zoo's Thundergod Gift Shop is a great place to find unique gifts! Simply present your membership card and photo ID. (Discounts do not include stroller or wagon rentals, sale items, film or food items at any of the concessions.)
Mountaineer Sky Ride Day Pass or individual Sky Ride ticket discount
For just $35, you can add a Sky Ride Day Pass to any membership and ride as much as you like! Or, receive a $1 discount on individual Mountaineer Sky Ride tickets.
Quarters for Conservation
Part of your membership goes to support Quarters for Conservation. With every visit, you will receive quarter "tokens" and get to contribute to the conservation project that inspires you. Learn more about our conservation efforts and programs.
Our members help make the world a better place.
Thanks for your support!